Primary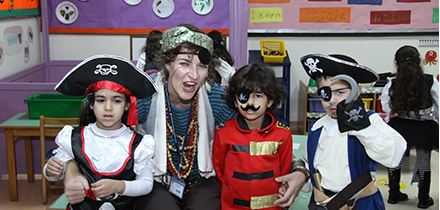 Foundation Stage

Our Early Years Foundation Stage (EYFS) Department is a warm, caring, inspiring hub of activity and wonder. The EYFS environment supports all forms of learning, encouraging children to use their gross and fine motor skills in exciting and fun ways. We are fully committed to developing each child, encouraging independence and confidence in their abilities. Children are given choices and self-selection of activities is at the heart of learning in our Early Years.

Our EYFS department is so well resourced, that we are able to offer opportunities within the Classroom, Pod and Outdoor Learning for children to flourish in their environment. Our curriculum is broad and balanced to ensure all areas of learning are developed and utilises skills set out in Development Matters, a UK document that leads beautifully into the New National Curriculum for Primary (Year One through to Year Six).

Social skills are continually supported, encouraged and developed, so that children make friends and learn to play and learn from and with others. We take this element of learning very seriously, yet manage to have plenty of fun in the process!

Our Foundation Stage staff work together to provide activities that engage young children, and develop their communication and language skills. Careful observations of the children inform teachers of areas to focus on for future learning experiences and allow teachers to track progress and achievement from their pupils. We strongly encourage parents to keep the teachers informed of children's progress and activities out of school and value parental input and support in the learning journey of their children.

Children are encouraged to engage with their environment by playing and exploring, being involved in active learning and by creating and thinking critically. These elements of development underpin learning and support children to be effective and motivated learners, in a safe and warm learning environment.

Our facilities are excellent in the Foundation Stage and provide a range of exciting and stimulating areas for learning in a safe and nurturing environment. We have classrooms that lead on to a large pod area, where learning is extended to utilise our vast range of resources. We also have Outdoor Learning yards, one which includes a role play area, sand pit, water play and garden and another which allows children to use bikes and scooters to support physical development. We also have access to the swimming pools, track and field, cooking room, music rooms, dance studio and library, which our children visit once a week.
We are fortunate to have specialist lessons in our Foundation Stage including Arabic, Music and Physical Education. These lessons are all taught by subject specialist teachers and can often help children to develop talents outside of the classroom.

We are extremely proud of our Early Years department and find many ways to celebrate learning in our youngest students. Keep a close look at our photo gallery to see what we've been up to.



Key Stage One

Year One and Year Two are collectively known as Key Stage One in English National Curriculum schools. At MES Cairo our curriculum is directly in line with what is being offered in the UK and is carefully planned to make use of the local environment, and the experiences and background of our children. The curriculum builds beautifully on the learning that takes place in our Foundation Stage and to help children make the transition from Foundation Stage Two to Year One, we encourage similar Early Years practice for at least the first term of Year One. This means that the children continue to be encouraged as independent learners and to self-select activities from the range being offered in their classes. As the children move on into Term Two, there is an expectation that all activities are completed over the course of the school week and that learning does become more formal in order to make the transition into more academic learning. Outdoor Learning in Year One allows children to further develop their learning and problem solving behaviours, whilst also developing even more effective social skills.

To ensure that all children have access to learning at their own level, teachers differentiate the learning activities. This is a strong feature of teaching at MES Cairo.

Workshops are held for parents so that aspects of our curriculum can be carefully explained and to allow parents to experience learning as their children do.

Specialist lessons in Key Stage One include Music, Art, Computing, Arabic, Religion and Physical Education and allow access to our broad range of shared facilities in school, including the gym, running track and field, swimming pools, Art and Music rooms, Science laboratory and Key Stage One library.