Parents as Partners Sessions
E-Safety Presentation

MES Cairo held it's first annual Parents As Partners session on 10th October 2017 from 3:00–4:00 pm in the Secondary building.
All parents of students in Grades/Years 7-9 were invited as Ms Shereen Taha talked about how to keep children safe online.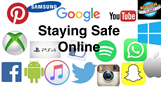 Digital Citizenship

During the week of 22-26 October, MES Cairo will host our own Digital Citizenship Week exploring online safety, the wise
use of technology and how to protect your personal information.
October/November Events:
10 October E-Safety Presentation
22-26 October Digital Citizenship Week